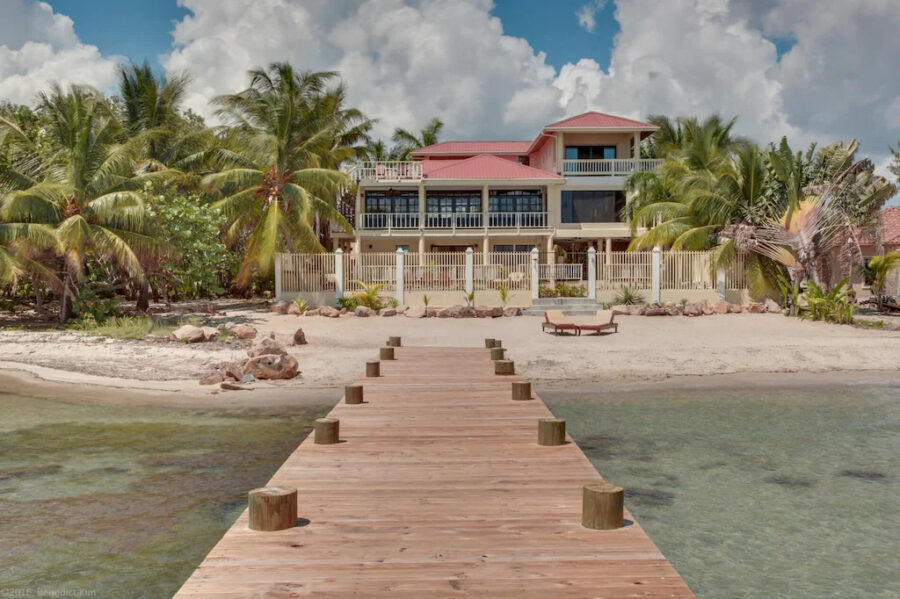 PRICE: $180,000 US (1/10 Share) 10% of Company
Type: Fractional Ownership Beach House
Status: Active
Rooms: 6BR/5BTH (8 beds, sleeps 12)
Levels 3
House Size: 4,000 SF
Location: Midway Placencia Peninsula, Surfside Subdivision
I.D.: F03
MLS#: –
Beach Villa: 6 Bedrooms, 5 Bathrooms (Sleeps 12)
*Private Chef Included
Relax and enjoy your 3-story custom waterfront escape, featuring 6 bedrooms and 5 baths and located in a gated private residence only steps from the ocean in Placencia, Belize. Lounge by your private fresh water swimming pool only feet from the sand. Later, take our kayaks and paddle over to the nearby island or along the beach by our private pier. For the ultimate luxury experience, choose to have our personal chef prepare delicious meals featuring local cuisine. In addition
Mission Bay Fractional Beach House is a certified Gold Standard Property by the Belize Tourism Board and managed by a highly respected company that manages four exclusive private island and numerous luxury waterfront villas in Placencia.
Our professional staff is nearby and ready for whatever needs might arise. Mission Bay is fully walled and gated to ensure the utmost in privacy and security. Furthermore
Ground floor features:
2 large bedrooms each with private baths and access to a spacious covered patio overlooking the pool and ocean. Also located on the ground floor are an open air living area, a dining room, and a bar.
2nd floor features:
An expansive open kitchen with breakfast bar, roomy open dining room, and covered open patio overlooking the pool and pier. There is one master suite on this floor with a sitting room, bar, private fridge, and features an adjoining third bedroom with bunk beds designed for kids. The 2nd bedroom and bathroom are adjoining the open kitchen living area for easy access to your morning coffee at sunrise.
3rd floor features:
The top floor is a massive private master suite and bathroom, with indoor and outdoor showers and a huge covered patio overlooking the pool and ocean.
The home is close to fine dining and other upscale resorts in an exclusive section of Placencia, just 8 miles from Placencia Village and the air strip. We are located 1.5 miles south of Maya Beach, less than 1 mile from Nai Resort, which you can easily access using our included golf cart. There is also a brand new super nice putt putt place with great bar and restaurant literally across the street from the villa.
At Gecko Vacation Rentals, we are passionate about two things; providing the highest quality services and ensuring our guests have a great vacation & experience in Belize. Our extraordinary property provides a one-of-a-kind setting, but the amenities we provide elevate it to a league of its own. From the personal chef to daily guest laundry, our idea is that our guests should not have to lift a finger. The staff at Mission Bay we will stock the fully equipped kitchen with provisions as requested in advance, so our guests can get into vacation mode right away, with no effort and only the actual cost of the food you have selected.
Max Occupancy: 12 guests (10 adults max)
ACCOMMODATIONS
Master Suite Third Floor – 1 King bed, 1 twin day bed with Private entrance
2nd Master Suite Second Floor – 1 King with private entrance
Bedroom 3 First Floor – 1 King with Ocean/pool view
Bedroom 4 First Floor – 1 Queen
Bedroom 5 Second Floor – 1 King
Bedroom 6 – Twin bunk beds
We will strive to make this your most memorable vacation experience with all of the following included with your stay.
Daily Maid Service
Chef Service – 3 days for weekly rental
Quest Laundry Service
4 Seat Gas Golf Cart (with payment of $40 gas and usage fee)
High Speed Internet and WIFI
Use of Kayaks and Paddle Boards
Full Time Concierge Service
On property spa services available upon request
Transfers to/from Placencia Airstrip on Check-In Day & Check-Out Day
Soap, Shampoo, paper goods, beach towels, etc, etc.
Welcome Drink
On site caretaker (lives in separate staff house)
As group sizes and food choices vary, please budget $25-35 USD per person per day for your food for those 3 days.
Bedroom Details:
Master Suite 3rd Floor: Suite has a private entrance. 1 King bed, 1 twin daybed
2nd Floor — 2nd Master suite has a private entrance and 1 king bed
2nd Floor—Bedroom with 1 king bed
2nd Floor—Bedroom with twin bunk beds
1st Floor—Bedroom with ocean and pool view and 1 king bed
1st Floor—Bedroom with 1 queen bed
We also have 1 pack-and-play crib and 1 portable high chair booster seat available.
Placencia is the second most popular tourist destination located in Southern Belize. It is located on a 16 mile long peninsula that is surrounded by the Placencia Lagoon on one side and the Caribbean Sea on the other. It is much smaller, less congested and more laid back than Ambergris Caye / San Pedro. Being on a peninsula and not an island, Placencia provides easy access to the Belize Rainforest and many activities on the mainland like Mayan Ruins, waterfalls, zip lining and cave tubbing to name a few. Placencia offers numerous restaurants, small shops and bars and is home to famous Placencia Sidewalk and is the perfect place for an amazing Caribbean vacation. Furthermore
All international flights coming into Belize land at the Belize City Airport (BZE). Our full time concierge will work with you to arrange transportation from BZE to the property. Getting from BZE to the villa is easy with 3 options available.
Option 1 is to take a short (approximately 30 minute) local commuter flight from BZE to the Placencia Airstrip where you will be met by one of the Gecko Properties staff and taken directly to your villa. Our concierge will work with you to book these flights once you have your international flights booked and locked in.
Option 2 is to take a van shuttle from BZE to the villa. The driver will meet you outside of baggage claim. The drive from BZE to the villa is around 2.5 hours. The roads are all paved and a good portion of the drive is on the beautiful Hummingbird Highway that goes through the Maya Mountains. Our concierge will work with you to get this booked again once you have your international flights booked
Option 3 is to rent a vehicle at BZE and make the drive down to the villa yourself. There are numerous rental car agencies right across the parking lot from baggage claim including Hertz Avis and Crystal Car Rental a larger local car rental company. You would just need to go online to book and secure a vehicle prior to arrival. In addition
BOOKING FEES & CANCELLATION POLICY
A full refund minus a non-refundable booking fee of $150, will be issued when Guest elects to cancel the booking at least 60 days prior to check-in date. If the booking is canceled at any point after the 60 days, all payments made will be retained. In conclusion
Belize Entry Requirements as of 1 March 2022:
All fully vaccinated persons will be able to enter the country without testing provided they can show proof of vaccination status. Travellers who are not full vaccinated will be required to present a negative Covid-19 PCR test taken within 72 hours of travel or a negative result from any approved Antigen Rapid Test taken within 48 hours of travel. If no test is presented, a COVID-19 test will be administered at the airport for a fee of USD $50 per passenger. Children under the age of 5 years will not be required to present a negative test. COVID tests required for return to the USA can be administered at the property for a cost of USD $75 per person.
---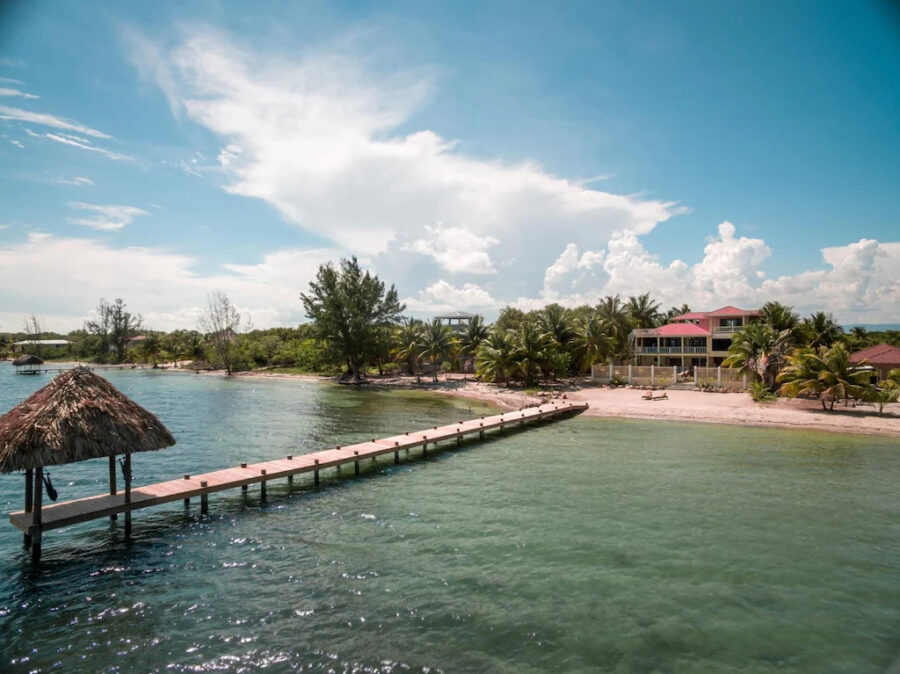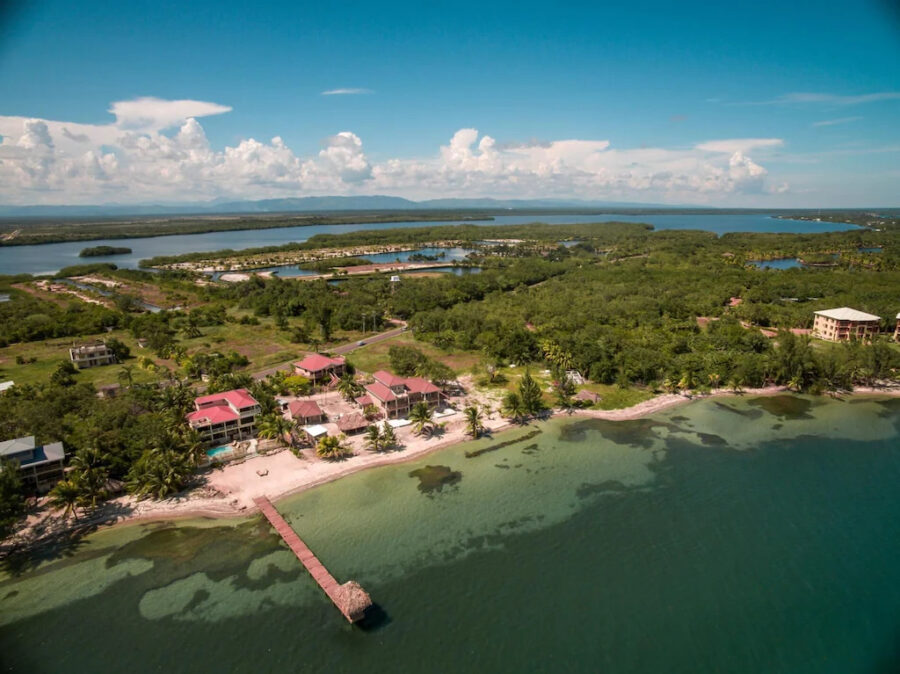 ---
---