Placencia Peninsula:
Placencia Belize
is one of the most beautiful and unique peninsula in the Central American Region. This 16 mile stretch of real estate has the Caribbean Sea on one side and the long and wide 16 mile lagoon on the rear side.
The beach offers crystal clear waters for swimming or just relaxing. The16 mile stunning beach peninsula located in the south of Belize is the second fastest growing tourist location. The Placencia Peninsula is truly a special peninsula
The lagoon has an array of Manatees, Crocks, fish, silver foxes. In addition, many species of birds and other wildlife and of course the great views of the near by Maya Mountains. The Placencia Peninsula is such a special and picturesque peninsula therefore
The Placencia Peninsula is a main inhabited areas. Placencia Village is located on the very Southern tip. While heading North, the next village is Seine Bight then Maya Beach in the central local section and finally Riversdale on the very Northern tip as one enters the peninsula via main road. Therefore
Each is unique in its own way. The area is ideal for sailing, snorkeling, diving and just visiting the "Caye" Islands. Development continues on the entire peninsula as more visit and retire here. In addition
In the backdrop of the lagoon one sees the breathtaking Maya Mountains on the main land which are very close to the peninsula.  ideal peninsula with the sea on one side and the beautiful lagoon on the other running the entire length of the peninsula.
Some of the new projects include "The Serenity Beach Resort", COVE Oceanside Resort & Residences, HOBBS Brewery, Itz'ana Resort, Naia Resort, Little Harvest Caye, Frigate Caye Resort. Come down and see for yourself the beauty of Placencia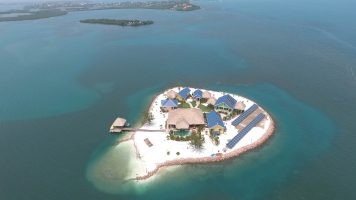 –   Cool  Places To Visit While In Placencia, Belize –
………… HOBBS Brew Barge – Party Barge located at Rum Point Marina behind The Serenity Beach Resort. 
---
---