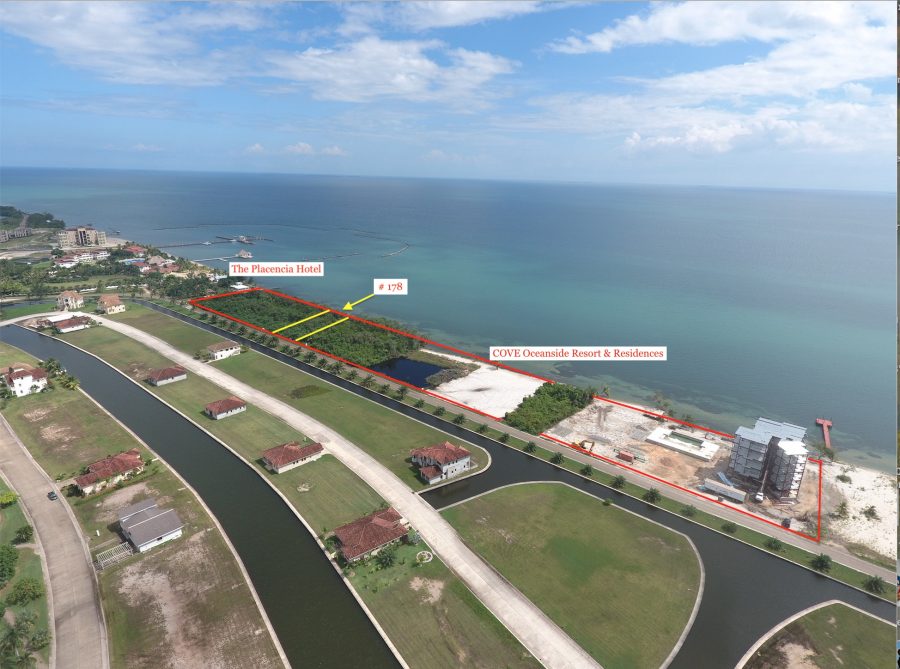 Price:    $250,000 US "Firm"
Parcel : 178
Type:     Vacant Residential
Status:  Active
Size:      (85′ x 167′) (depth does not inclosed the 66′ beach easement)
Location:  Northern Placencia, Belize. 400 yards north of "COVE Oceanside Resort & Residences"
I.D. NV09
MLS#
For sale in the Placencia peninsula's northern area is this large residential vacant beach lot is located in the middle area of two large luxury Resort/Condominium projects know as "COVE Oceanside Resort & Residences" south and "The Placencia Hotel" north of said parcel. Both adding strong future value and area amenities to this residential beach lot. This plantation area beach lot is a great opportunity for those who can see the value and increase forecast of beach lots in this area therefore
There is no question that this area is the nicest location for construction of ones future luxury beach home. An ideal community with lots of security in the area. It is also a great investment opportunity in  due to its size of 85′ sea frontage with a depth of 167′. This depth does not include the additional 66′ beach reserve in front of the surveyed measurements. This all gives a larger field of view at the parcel, not to mention the stunning 360 degree views of the Caribbean Sea and the peninsula lagoon with our  Maya Mountains in the backdrop for our usual stunning sunsets.
This Belize Plantation area beach lot offers stunning views of the Caribbean Sea  to all of the constructed luxury homes and beach condominiums in the area, it also makes for a good future holding. Values will for sure increase in this area making this purchase a solid investment as quality large beach parcels become rare on the 16 mile peninsula.
If you have any questions or concerns on this , please feel free to contact the Broker Brian Yearwood directly:
Cell Phone: (+501) 625-3122, Email: info@belizerealestate.net . We would love to have you as part of our new community here in Paradise!