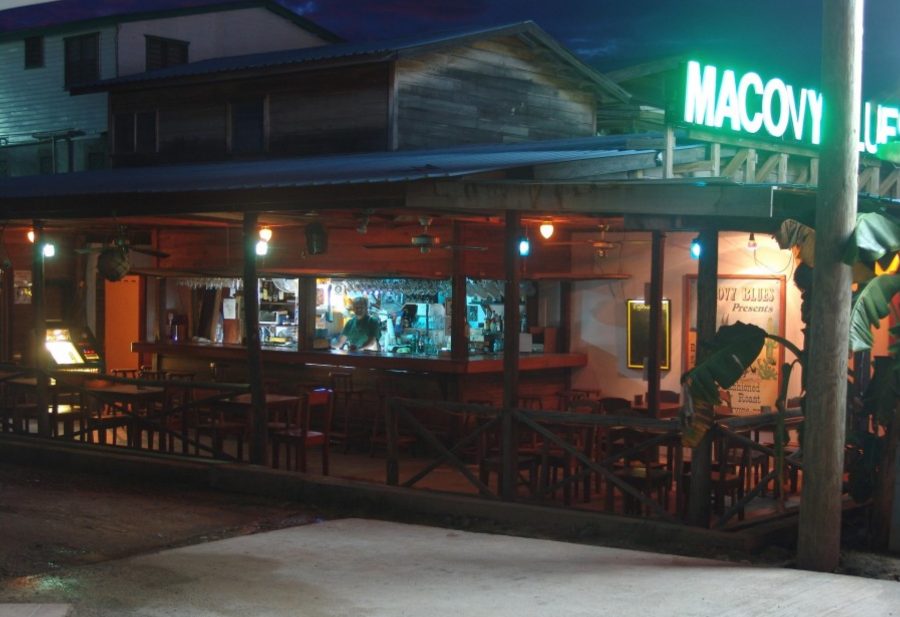 Price: $549,000 US
Owner Financing  Available
Status: Active
A-1 Location
Lot Size: 8,360  sq. ft.
Building Size: 3,100  sq.ft.
I.D.#SRF05
MLS# 1154
MACOVY BLUES GUEST HOUSE – This Commercial Property is an operating business located right on the main peninsula road in the heart of Placencia Village. It is directly across the street from Scotia Bank Belize in Placencia village. Has an open air restaurant/ bar with fully equipped commercial kitchen, storage rooms, (5) Rental Rooms (85% occupancy rate), A/C rooms, fully furnished with Cable TV services, Satellite TV  and refrigerators and (1) leased office on main road frontage, laundry facility and large storage room.
Property measures 55′ x 152′. Rear 1/2 is vacant land fenced in which has lots of room for expansion and additional construction for rental income.
Second and third floors can be added on, for it has a solid foundation. There is a height limit of three stories allowed within Placencia Village boundary area -40′.
Vacant lot at rear of business can be used i.e., two story Disco or expansion of rental rooms – 8. Vacant area measures roughly 55′ x 65′. Perfect area in town for enclosed two story Nightclub.
There is no better location for a business of this type in the Village. Lots of vehicle and foot traffic right in front of property. Located in the very Center of the Placencia Village. Busy Area! This property is located between the two top bars just down the street and just in front on the beach.
"A-1 Location"
https://www.youtube.com/watch?v=gAEQhzIrTJI&feature=youtu.be