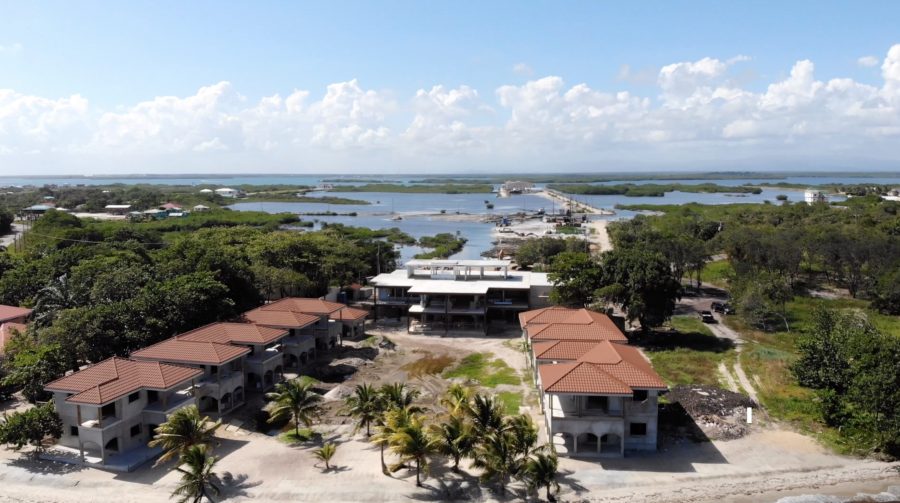 Prices:  $289,000 – $1.2M US (Beachfront Villas)
Beach Villas: (24) 1BR, 2BR & 4BR (1st and or 2nd floors)
Status: Active (Resort Opens December 2019)
Type: Beach Villas / Resort (Sea To Inner Lagoon Marina)
Villa Sizes: 456 SF, 965 SF, 1,693 SF, 2,730 SF, 2,934 SF.
(6) Rental Rooms Second Floor Main Beachside Bld.
30,000 sq.ft. Casino Bld. Lagoon side
(26) Rental Rooms 2nd Floor Casino Bld. Lagoon side
Boat Slips: (53) for sale. $50,000 US/each. Measure (14′ x 38′) each
Location: 0.25 Miles North of Placencia Airstrip
I.D. SC01
MLS#
This 9 Acres Resort & Lagoon Marina is located 0.25 Miles North of the Placencia Airstrip. Located also just 1 mile north of Placencia Village with all its amenities. An ideal location just outside the village and on "Rum Point" which is a wonderful beach.
The Resort  is presently under full construction with plans of Luxury Boutique Villas/ Resort on the sea side (24) Units and (6) Rental Units in the main beach building. (53) boat slips on the inner lagoon side at  Rum Point Marina.
Developer: R&B Development Co. Ltd. – Placencia, Belize
Contractor: R&B Construction Co. Ltd. – Placencia, Belize
Architect: ab2architects – Placencia, Belize
BEACHSIDE: Luxury Boutique Resort.
(30) Total Units – 24 beach villas rooms furnished, 6 rental rooms in main building Resort
pool & bar, main building cigar bar, HOBBS Brew Pub, 250′ seaside pier, Inside/Outside Top Deck Restaurant.
LAGOON SIDE :
(26) Resort rental rooms. 2 Storey Casino Bld. –
Rum Point Casino & Marina: 30,000 sf. with (53) Boat Slips for sale – (14′ x 38′) – $50,000 US /Slip
A few additional slips for larger yachts available
______________________________________________________________________________________
            Villa  (Complete Bld. 2 floors)                |            Individual Units (1st or 2nd Floor)
Villa 1 – 4BR/4BTH,Seafront (2,934 SF)-$1.2M   | Villa 1A-2BR/2BTH Seafront, 1st Floor (1,460 SF)- $699K
Villa 2 – 2BR/2BTH,Seafront (1,693 SF)-$995K   | Villa 1B-2BR/2BTH Seafront,2nd Floor (1,474 SF)- $749K
Villa 3 – 4BR/4BTH,Seaview (2,730 SF)- $995K   | Villa 2A-1BR/1BTH Seafront, 1st Floor (948 SF)-  $499K
Villa 4 – 4BR/4BTH,Seaview (2,730 SF)- $995K   | Villa 2B-1BR/1BTH Seafront, 2nd Floor (645 SF)- $549K
Villa 5 –  1BR/1BTH,Seaview (965 SF)-   $375K   | Villa 3A-2BR/2BTH Seaview, 1st Floor (1,357 SF)- $499K
Villa 6 – 4BR/4BTH,Seaview (2,730 SF)- $995K   | Villa 3B-2BR/2BTH Seaview, 2nd Floor (1,373 SF)- $649K
Villa 7 – 1BR Studio,Seaview (456 SF)-  $289K   | Villa 4A-2BR/2BTH Seaview, 1st Floor (1,357 SF)- $499K
                                                                                   | Villa 4B-2BR/2BTH Seaview, 2nd Floor (1,373 SF)- $649K
                                                                                   | Villa 6A-2BR/2BTH Seaview, 1st Floor (1,357 SF)- $499K
                                                                                   | Villa 6B-2BR/2BTH Seaview, 2nd Floor (1,373 SF)- $649K
______________________________________________________________________________________
For More Info Contact – 
Yearwood Properties Ltd.
Brian Yearwood, Broker
Email: info@belizerealesate.net
Ph: (+501) 625-3122