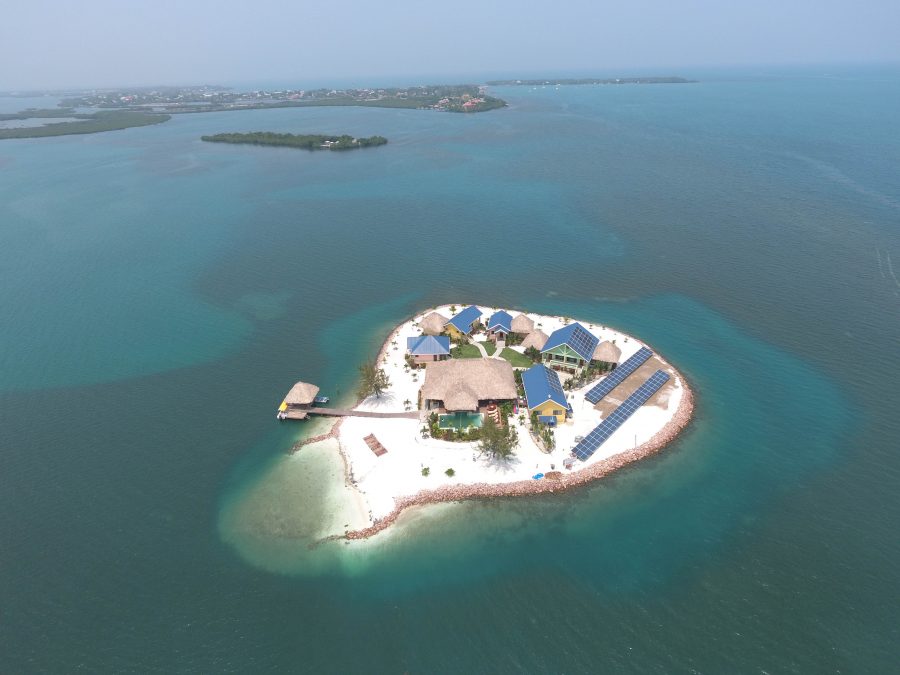 Price: $400,000 US/Per Share – 10% Ownership of Company. (2 Shares Available = 20%).
Rental Rates: $11,500 US- $21,000 US/week (seasonal). Minimal 4 nights $2,357/night avg.
Status: Weekly Rental "Entire Island Only"
Type: Single Family Private Island Villa – Fractional Ownership
Size: 5BR/6BTH + Staff House. (Sleeps Up To 14)
Space: 7,000 sq.ft. – Living Area, 8,061 sq.ft. – Total
Island: 1.5 Acre
Location: 3/4  of a mile south of Placencia Village Point
I.D.# I01
MLS# 1451
"Little Harvest Caye" – Very profitable business with 95% occupancy rate for 2017 & same projected for 2018. This Exclusive Private Island is located only 3/4 mile south of Placencia Village point. This private Island luxury villa will be by far the most elegant Island in the area. Fractional ownership shares (total 10 shares only) are  being offered for sale at a most reasonable price considering the high-end value of the Island Villa.
The Island opened in  January 15 2016. Each share holder will have the option of use or rent their  5 weeks per share per year. Rental rates  $11,500 – $21,000 US / week. A-1 location and  very good investment!. The Island offers connected municipal water  and will have split solar A/C units throughout, special back up generator, and all imported high-end stainless steel appliances and furniture, two boats and mainland golf carts. This very special Island is 4 feet in elevation above sea level and sits on 1.5 Acres. Will have a docking pier, swimming pool and "exceptional 360 degree views" of the Placencia Boat Harbor, Eastern Islands, Peninsula  Lagoon, Maya Mountains and the Norwegian Cruse Line's 90 Acre Harvest Caye Island /Cruise Ships located only 2 miles south. "Very Special Views All In One Location".
This Island Villa is a very unique holding and will only increase in value. Project has DOE/CBA approval. Construction pictures will be update regularly. Stories – 1 Private Boat Dock – up to 4 boats Staff Quarters – to sleep up to 4 with separate kitchen, bath Mechanical and owners lockers – by staff housing Uniquely designed island compound home specifically laid out to take advantage of the amazing sea and mountain views and the cool trade winds.
Main Living Area, Bar & Kitchen – Massive open air room with souring custom thatch roof and wood work. Large full walk around bar, eat in kitchen and private study. Living area is overlooking pool, sandy white beach with amazing views of the Maya Mountains. Pool is a large freshwater, concrete pool with tanning ledge and layout deck.
Master Bedroom & Bath – Huge private bedroom with large cover private balcony, his and her closets, make up area / desk. Bathroom is separate private room with thatch ceiling, Onyx floor and counter top, jetted tub, walk in shower as well as separate large outdoor shower, his and her sinks.
Bedroom 2 & 3 and associated Baths – large private bedrooms that share one common wall, each with private covered patio and ocean views. Each bedroom is large enough to accommodate 2 queen size beds to increase occupancy capability of island. Each bedroom has its own private bath that is a separate room with thatch roof, Onyx floors and counter top, walk in showers, his and her sinks etc.
Bedroom 4 & Bath – large private bedroom with private covered patio and ocean views complete with private bath that is a separate room with thatch roof, Onyx floors and counter top, walk in showers, his and her sinks etc.
Bedroom 5 & Bath – large private bedroom with private covered patio, upstairs loft that can be used for kids sleeping area and ocean views complete with private bath with large tub, outdoor shower, his and her sinks, etc.
Note:  all bedrooms have their own high end inverter technology mini split AC systems that are the quietest and most efficient systems on the market as well as in room ceiling fans to ensure a comfortable nights rest. All bathrooms except in bedroom 5 are open air with a foot or so below thatch roof line open to allow for breeze with out sacrificing privacy and each bathroom comes with large ceiling fans in them as well.
* INTERESTED BUYERS PLEASE CONTACT SELLER/OWNER DIRECTLY:
BRIAN YEARWOOD – YEARWOOD PROPERTIES LTD. PLACENCIA, BELIZE.
EMAIL: INFO@BELIZEREALESTATE.NET  CELL: (+501) 625-3122.
_____________________________________________________
Rental Rates/Booking Link: https://vrbo.com/758309

Additional Features & Amenities:
Large private dock
White sand beach and swim area
Covered thatch walkways connecting rooms to main area
Trex decking material used on all walkways to rooms and around pool for no maintenance
Gourmet kitchen with high end propane stainless steel appliances and fully outfitted with all the kitchen equipment
including Green Egg and traditional gas grill and tools to make the perfect meal
Concierge Service
Private Chef
Large custom fresh water pool with water feature
Custom high end construction and finishes through entire home
All natural stone flooring and showers, etc.
Custom make doors, many of which are hand carved by local on staff Mayan carver
All concrete construction in bedrooms
Separate staff housing and kitchen for 4 full time onsite
Energy efficient inverter a/c units through out home, high efficiency propane water heater, double glass low e windows
LED lights through out interior and exterior of home
Fully furnished with custom local made high end natural wood furnishings
Lush tropical landscaping
Staff and guest boats included with home
Gas golf cart included with home
Large on site utility room with high capacity washer and dryer
On community Village water system with rain water collection as well, high end off grid solar system with back up
generator and industrial storage batteries
Sat. TV and 4G internet and cell service
Large HD flat screen TV and entertainment center in main living and flat screen TV in each bedroom
Kayaks, ping pong table, outside movie screen and projector
Rental Rates (US$):
Dates                                    Nightly Weekend                Night                Weekly         Monthly *Event
High Season (1) 2016
(Jan 2 – Jul 29, 2016)            6 night min stay                  $   1,550             $9,900
Changeover Day: Saturday
Summer 2016
(Jul 30 – Sep 2, 2016)            4 night min stay                  $   1,250            $7,950
Changeover Day: Saturday
Fall 2016
(Sep 3 – Nov 18, 2016)          4 night min stay                  $   1,000            $6,350
Changeover Day: Saturday
High Season (2) 2016
(Nov 19 – Dec 16, 2016)        4 night min stay                  $   1,550             $9,900
—————————–
Holiday
(Dec 17 – Jan 7 2017)             4 night min stay                                            $19,000
High Season (1) 2017
(Jan 8 – July 28, 2017)           4 night min stay                  $   2,300            $14,500 
—————————–          
High Season (1) 2018         4 night min stay                  $   2,600            $15,600       
(Jan 8 – July 28, 2018)
——————————                                                          
Fees:
Refundable Damage Deposit: $700 US
Tax Rate: 9%
Cancellation policy: Policy available by contacting manager when booking.
For more information contact Co-Developer Brian Yearwood – 625-3122 or stop by  Yearwood Properties Ltd. located directly across the street from Scotia Bank in Placencia.