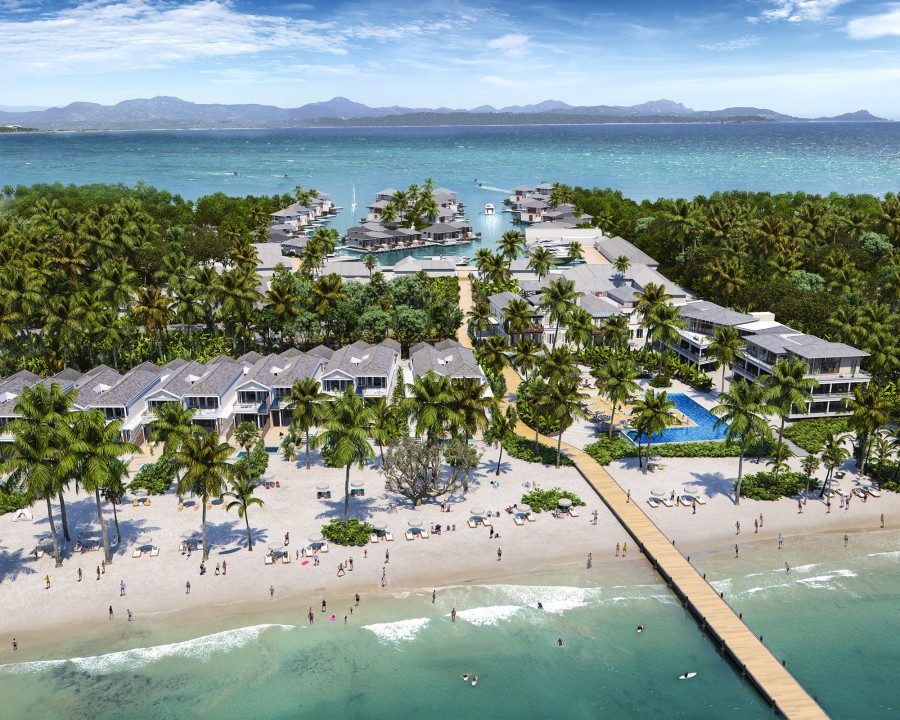 Price: $345,000 US – $1,550,000 US
1BR Solar Cottage (Lagoon)
1BR,2BR,3BR,4BR,5BR Luxury Villas  (Lagoon)
1BR,2BR,3BR Luxury Villas  (Beachfront)
2BR,3BR Penthouses (2)
Status: Active
Type: Resort/Residential
Location: 2 Miles North Placencia Airstrip
I.D.: CR05
MLS#:
Luxury Beach & Lagoon Villas:
Welcome to Itz'ana Resort and Residences. Named after the Mayan God of day and night, Itz'ana celebrates the contrasts form which it was born: where beach meets lagoon, adventure meets luxury, and the Caribbean meets Latin America. The sleepy coastal village of Placencia is the canvas for this luxury appointed residences. Impeccably designed and crafted in harmony with the local surroundings, the resort and villas pay homage to the soul of Belize.
Itz'ana Resort & Residences the beautiful intersection of Mayan and modern in one inspired resort. Located on the Placencia Belize 16 mile peninsula
Great House – Itz'ana Resort & Residences ode to the great Caribbean estates of years past, the Great House is a gathering place for family and friends – old and new – to eat, drink, meet (or escape), and relax. With two storeys of vibrant open spaces and private hideaways to explore and discover, the Great House can be experienced many different ways.
Find yourself welcomed into the double height lobby with framed views of the sand and sea, or dining on the Limilia deck and enjoying a private rum tasting in the hidden recesses of The Rum Room. Or perhaps start a new day with sunrise yoga on the roof deck, before whiling the afternoon away in the library and then soaking up the sun and sea breeze with a cocktail on the rooftop bar. Whatever whimsy may strike, the Great House will inspire your story.
The Rum Room – Here we explore and celebrate the spirit of our land and our sea. A private enclave, rich with weathered wood and worn oiled leather. The Rum Room is open for private events and tastings in which our own Rumlier takes you on a journey through Latin America and the Caribbean, as you learn about and experience rums representing every rum-producing nation.
Limilia Restaurant – "Sea to table". From unparalleled views of the beach in both the indoor and outdoor dining rooms, to the intimate ambiance of the private dining rooms, Limilia awakens senses beyond the palate. Chef-driven and fisherman-inspired, the changing seasonal menus focus on local and international seafood fare, featuring locally sourced ingredients, including vegetables from the organic farm and fresh line-caught fish from the on-staff fisherman.
Full Service Marina – Located mere miles from the world's healthiest and second largest living reef system.Itz'ana Resort & Residences is the perfect base camp from which to fish, dive, snorkel and leisurely sail through some of the most pristine and beautiful waters around.
The full service marina will feature a watersports activity centre, a refueling station and supplies store. This central marina will also service the residences that feature boat docks on the lagoon directly to the front of the unit.
Private Island Access – Itz'ana's exclusive private island provides privileged access to island picnics, sundown yacht charters and even overnight camping.
Over Water Deck –  With private overwater nooks and a pop-up ceviche bar, while away the day with a book and a cocktail over the water and under the sun.
Sunrise Yoga Deck – Built into the top of the Great House, welcome the new day with panoramic views of the Caribbean.

Spa – With 5 treatment rooms, a meditation room and saltwater pool, the Itz'ana Spa showcases locally sourced rainforest botanials and Mayan inspired treatments.

Roof Top Bar – For and afternoon drink or a nightcap,the rooftop bar offers amazing vistas and a refreshing breeze. With locally inspired libations, you're always welcomed back to a place that feels like home.

Library – Deep within the Great House, the Library is quiet sanctuary of leather chairs and overflowing bookcases and lose yourself in a great story of bygone times.

Amenities:-

Great House:
Limilia Restaurant
Rooftop Bar
Rum Room
Rooftop Yoga Deck
LIbrary
Members Club
Gift Shop
Beachfront:
Over-Water Deck
150′ Beachfront Pool
Harbour House:
Watersports Adventure Centre
Conference and Event Facilities
Gourmet Deli
Screening Room
Spa with Saltwater Pool
Gym
Meditation Room
Organic Garden
Family Pool
Marina with 33 Boat Slips
In Addition:
Standard payment schedule is ten thousand down for a reservation on a specific villa (fully refundable if you do not move to purchase), 20% at purchase agreement, 25% at Foundation, 25% at Roof Over, 25% at Substantial completion and the remaining 5% at Title application. Therefore
Everything is operated as a turnkey solution, meaning all villas come fully furnished and are fully managed. Itz'ana Resort & Residences is based on international best practices and is extremely cost-effective for luxury properties. Our owners will cover their entire monthly costs (homeowner's fees, utilities, insurance, etc.) with approximately 6 nights of rental per month. From there, they are making strong passive income.
Owners have full control of their property's rental usage, unlike most luxury resort properties that limit owner usage to a certain number of weeks. Owners may rent it out as much as they like. Or they may choose to live at Itz'ana full-time, and not rent it out at all.  Our Homeowner Fees are very low for luxury resort properties: $ .45 cents US on the lagoon side and $.55 cents on the beach side per interior square foot. In addition
Itz'ana Resort & Residences of Placencia fees include the Maintenance Assessment and the Resort License Fee. The Maintenance Assessment covers the exterior of the home (garden upkeep, exterior painting etc.) and all common areas (walkways paths, roadways, gardens).
Itz'ana Resort & Residences license is similar to a membership as it gives you and your guests access to the entire resort's amenities (security, parking, spa, gym, pools, restaurants, towel service at beach etc.) Itz'ana will collect from its guests all applicable Rental Revenue resulting from rental of the Unit and after all fees are accounted for, will split the revenue 50/50 with the owner.
For more info on Belize, please contact their official website " btia.org".
——————————————————————–
PRICE LIST: (As of May 15′ 2018)
Lagoon/Marina:
$  345,000 –  1BR Solar Loft Cottage (lagoon)
$  470,000 –  2BR (lagoon villa) "SOLD OUT"
$  635,000 –  3BR (lagoon villa)
$  755,000 –  4BR (lagoon villa)
$1,025,000 – 5BR (lagoon villa)
Beachfront:
$   475,000  – 1BR Beach Loft    "SOLD OUT"
$   755,000 –  2BR Beach Villa
$1,100,000 –  3BR Beach Villa  "SOLD OUT"
$1,295,000 –  2BR Penthouse
$1,550,000 –  3BR Penthouse