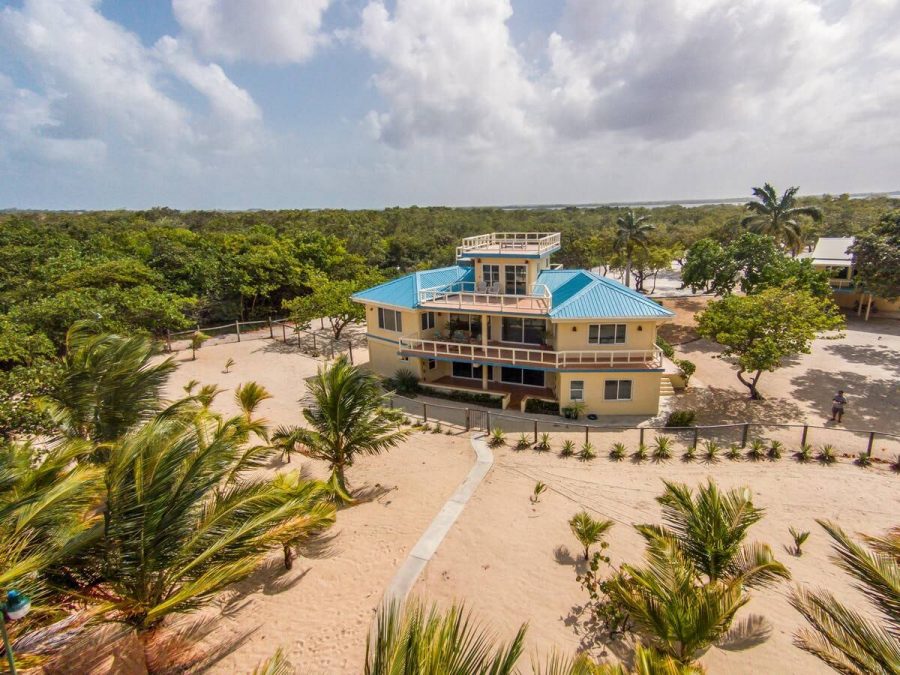 Price: $2,298,000 US
3BR/3BTH
Status: Active
Size: 5,000 sq.ft
3.5 Acres
200 feet beachfront
Location: 1 Mile North Placencia Airstrip
I.D. NA03
MLS#
Dolphin Beach Estate is a prime large beach estate running from sea to lagoon located a mile north of the Placencia Airstrip on the Placencia peninsula 3.5 acres beachfront property sits on a most high and white sandy beach. Location is only 3 miles north of the Placencia Village Belize with all its amenities such as Restaurants & Bars, Grocery Stores, Banks, Pharmacy etc.
SEASIDE 3.5 AC: ($1,799,000 US)
Beautiful three story main residence on the beach, 5,000 sq.ft. three bedroom, three bathroom, two enclosed garages, six verandahs, comes fully furnished.
Quiet solitude and privacy as home is located on the beach and depth of over 800 feet from the main peninsula road
Solid concrete structure in excellent condition. Granite kitchen with updated appliances
Many features including standby electrical generator, 6,000 gallons drinking water cistern, four A/C units, water purification system, security system, hurricane and insulated windows and doors.
The covered porte-cochere enhances the arrival experience as the two thick hand carved mahogany doors welcome guests.
The view from the roof top verandah of the Maya Mountains to the west and islands to the east out to sea evoke one word from visitors "wow".
This is an executive level home rivaling the best in the country of Belize.
Marina at rear provides boat access to lagoon for owners boat. Boathouse keeps the owners boat in totally secure storage, along with fishing equipment and tools.
Dolphin Beach Estate
EXCEPTIONAL VALUE: Compare with offerings up and down the beach and the conclusion will be that this package is unequalled in total value for the price. Dolphin Beach Estate is a prime large beach estate running from sea to lagoon located a mile north of the Placcencia Airstrip on the Placencia peninsula. Its a beautiful home on the beach, a private marina, two caretaker's homes, all in excellent condition in a very private setting is very special. Nothing else like it on the peninsula. Furthermore
NOT MANY LEFT: Large parcels (Dolphin Beach is 6 acres) are becoming more rare on the peninsula. Especially when both waterfronts are included – beach to lagoon. Additionally, the long distance from road to beach creates a quiet solitude at the beach home. 200 feet beach front with parallel boundaries across whole peninsula.
LAGOON ONLY OPTION: Two and one half acres, private marina, and lagoon access creates a great development opportunity. Boat house and casita included. Price is $669,000. USD.
TERMS : Ten percent deposit, cash balance at closing in US funds. Buildings and chattel conveyed "as is". Chattel conveyed with Bill of Sale. Possession at closing.
A unique opportunity for one to own a prime piece of paradise on the 16 mile lovely Placencia Peninsula. In addition
LAGOON SIDE 2.5 AC. MARINA PARCEL ONLY ($699,000 US) :-
200 feet road frontage and road to lagoon
Private marina, concrete sea walls, concrete launching ramp, canal to open lagoon
Boat house, completely enclosed for security
Caretakers home on site
Great location on the peninsula – one mile north of Placencia Airstrip
Ready for development: can be commercial or residential, let your imagination roll
Priced very attractively – compare with other like parcels (if there are any left)
---