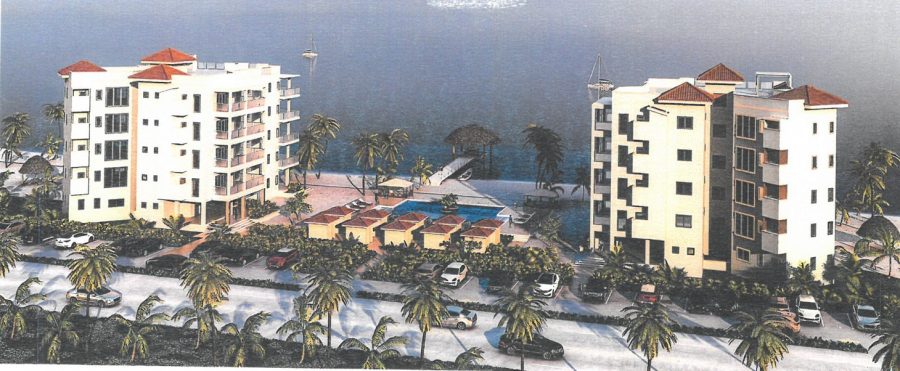 "New Project"
Prices: $580,464 US – $1,891,832 US  "Fully Furnished"
Terms Available /Owner Financing:  50% down, 5 years, 3% Interest
Type: Resort
Status: Active
Floors: 5
Buildings: 4 (Total of 765′ Caribbean Sea front)
Pools: 2
Building 1 (17 Units)
Units: (1BR/1.5BTH), (2BR/2BTH), (3BR/3.5BTH) Penthouses 2,806 sq.ft & 2,391 sq.ft
HOA Fees: $300 US/Mth. for 2BR & 3BR Units. $500 US/Mth. for Penthouses.
Location: North Area Placencia peninsula
I.D. CNB1
MLS #
Sales Website: http://coveoceansideresortbelize.net
COVE Oceanside Resort – 
Defined by a spirit of relaxation and adventure, "COVE Oceanside Resort & Residences" brings an exclusive resort experience to the picturesque Placencia peninsula. An indulgent spa, fully equipped fitness center, four pools, 2 restaurants, luxurious accommodations and breathtaking views elevate the resort beyond paradise.
COVE Oceanside Resort & Residences offer the ultimate in luxury with thoughtfully designed 1,2,3 bedroom condos that boast a meticulously curated decor with hand selected natural materials and custom designed furnishings with panoramic views of the Caribbean Sea, the Placencia lagoon and the Maya Mountains. With a fully equipped gourmet kitchen and state of the art appliances, imported porcelain floors throughout and technology enhancements such as 55″ smart LED televisions with bluetooth sound systems, YORK high tech AC system,  the residences offer the ultimate in luxury space. Furnished terraces overlooking the azure waves of the Caribbean Sea or the tranquil beauty of the Placencia lagoon are ideal venues to unwind and relax. The master bedroom , itself a tranquil haven with pillow top mattress and impeccable furniture and accessories, is complimented by the master bath with the glass enclosed rain forest shower, double stone vanities and amenities that ensure pampered beyond expectation. The 3 bedroom penthouses are the epitome of luxury and space. Walk into a grand foyer and relax beneath vaulted ceilings. With upgraded amenities throughout , impeccable attention to detail and unparalleled vistas of the Caribbean Sea, the penthouses set the stage for a truly elevated lifestyle…… "Are you with us"?
The developer looks forward to your feedback in order to perfect this very special project. completion/move in date for Phase 1 (Building-1 and Swimming Pool-1) will be January 2019. Building-2 has recently started. The developer plans to give Placencia peninsula a development in which we can all  be proud of.
1. *What Makes this Investment So Special From All The Others?……… 
This project has full funding in place and requires no pre construction scheduled payments from buyers as most other similar development projects.
High quality construction and very high end furnishings throughout. "fully furnished units".
Located in a high value real estate community. Consistent property value increases.
765 feet of beautiful Caribbean seafront with Main Lagoon & Maya Mountain views.
Many decades of construction & development experience by developer in USA/Belize.
PURCHASE OPTIONS:
A.) Cash Buyer: Will have unlimited use of unit and can enter into a rental program (50%/50% net profit split) with   COVE Management Company if desired.
B.) Terms Available:  50% Downpayment, 3% Interest Rate, 5 years – owners will have the option to enter into the Management rental program or not.
Note: All buyers under the rental program will have "3 weeks/year" for their vacation or visit dates. Advanced booking required for date selections.
Unfurnished Units:   $35,000 US less on prices. 1BR & 2BR Units only.
2. To Reserve Unit: $5,000 US "non-refundable" deposit required to reserve a unit. Buyer has the option to change to    another unit "if available" at that time. Once unit is fully furnished and walk through completed (January 2019), purchase agreement will be required within 14 working days with balance due. Architecture by ab2architect of Placencia, Belize. Construction by R & B Construction Co. Ltd. of Placencia, Belize.
Architecture by ab2architects of Placencia, Belize
Construction by R & B Construction Co. Ltd. of Placencia, Belize
*PHASE 1 (Building 1) –
GROUND FLOOR (3 Units)               SIZE                               50%            PRICE US$
• A1: North Unit "Seafront" – 2BR/2BTH (1,311 sf)        $377,244.50     $754,489.10
• A2: South Unit "Seafront" – 2BR/2BTH (1,308 sf)        $368,944.00     $737,888.00
• A3: South Unit "Road Side"- 1BR/1.5BTH (1,014 sf)    $290,232.00     $580,464.00
FLOOR 2 (4 Units)
• B1: North Unit "Seafront" – 2BR/2BTH (1,327 sf)        $396,106.00     $792,213.00
• B2: South Unit "Seafront" – 2BR/2BTH (1,335 sf)        $387,391.00     $774,782.00
• B3: North Unit "Road Side" – 2BR/2BTH (1,477 sf)     $436,678.00     $873,358.00
• B4: South Unit "Road Side" – 1BR/1.5BTH (1,037 sf)  $310,153.00     $620,306.00
FLOOR 3 (4 UNITS)
• C1: North Unit "Seafront" – 2BR/2BTH (1,327 sf)         $417,831.00    $835,662.00
• C2: South Unit "Seafront" – 2BR/2BTH (1,335 sf)        $405,838.00     $811,676.00
• C3: North Unit "Road Side" – 2BR/2BTH (1,477 sf)      $457,473.00     $914,946.00
• C4: South Unit "Road Side" – 1BR/1.5BTH (1,037 sf)   $324,922.00     $649,845.00
FLOOR 4 (4 UNITS)
• D1: North Unit "Seafront" – 2BR/2BTH (1,327 sf)        $433,831.00     $867,663.00
• D2: South Unit "Seafront" – 2BR/2BTH (1,335 sf)        $424,285.00     $848,570.00
• D3: North Unit "Road Side" – 2BR/2BTH (1,477 sf)     $478,268.00     $956,536.00
• D4: South Unit "Road Side" – 1BR/1.5BTH (1,037 sf)  $339,692.00     $679,384.00
FLOOR 5 (2 UNITS) PENTHOUSES
◦ P1: North Side Unit "Sea To Road" – 3BR/3.5BTH (2,806 sf)  $884,034     $1,891,832
◦ P2: South Side Unit "Sea To Road" – 3BR/3BTH (2,391 sf)     $751,782     $1,608,814