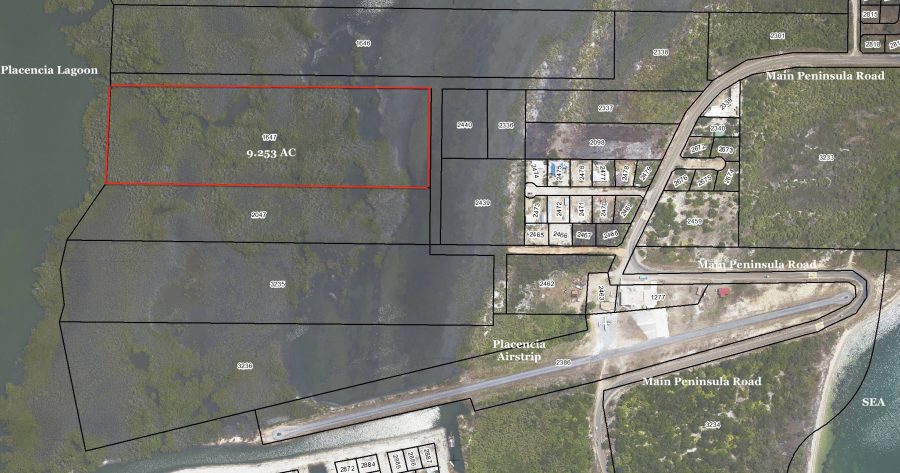 Price:   $600,000 US
Type:   Development Property
Status: Active
Size:     9.253 AC
Location: 500 yards north Placencia airstrip
I.D. PL02
MLS#
This property is located just 500 years north of the Placencia airstrip and only two miles north of Placencia Village. This 9.253 Acres Placencia Belize lagoon property, has an access road due to same developers north adjacent completed subdivision of "Vista Cove". It also has full infrastructure with underground utilities going all the way back to the Placencia main lagoon.
9.253 Acres Placencia Belize
is in an ideal location near the airstrip and village. A residential subdivision would be an ideal project for this property. Property is located just south of the "The Serenity Beach Resort | Rum Point Casino & Marina" with stunning sunsets over the Placencia lagoon and Maya Mountains. Great location for boat lovers.
The property is also well situated near the Placencia Airstrip and is also ideal for a marina residential subdivision or just marina. This 9.253 Acres Placencia Belize lagoon property, is only 2 miles north of the well known Placencia Village proper. Another plus it the property's close proximity to the main Placencia lagoon at the mouth of the Caribbean Sea. This is only a 7 minute boat ride from said property.
More Info
As the Placencia village area and the entire 16-mile peninsula grows in population, there will certainly be a demand for affordable marina residences which are close to the village and its amenities. Naturally at this time, large tracts such as this w.253 Acres Placencia Belize property will be very expensive and maybe unaffordable to many developers. Now is a great time to invest in the tract.
Over the last 5 years, property values have steadily increased on the peninsula and will continue to do so as projected by most living here. For additional information on the Placencia peninsula and Belize in general, please view the Belize Government's official website.