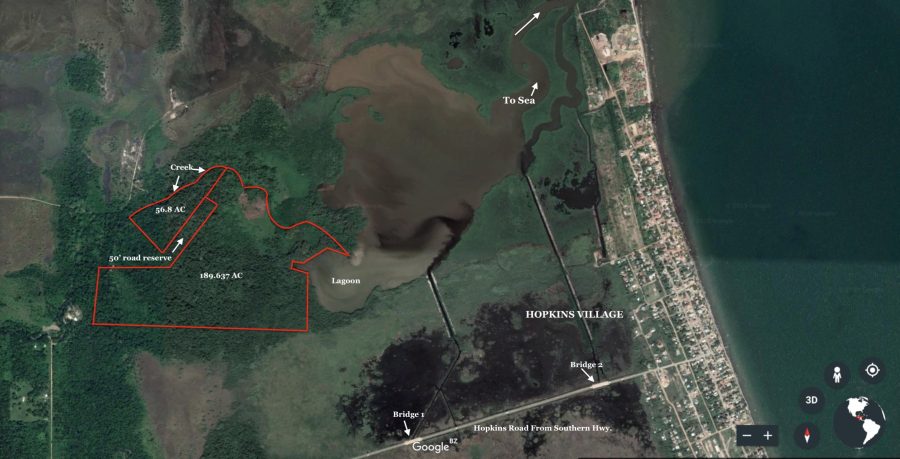 Price: $750,000 US
Status: Active
Size: (2) parcels – 246.4 Acres
Type: Development Property (Commercial / Residential Sub
Location: Quarter Mile From Hopkins Village On Main Road From Souther Hwy.
I.D. FH01
MLS #
This property is one of the largest for sale in the Commerce Bight / Hopkins Village Belize area. An ideal location with approximately 70% of solid land. Magnificent very large trees. The 246.4 Acres Hopkins Village property is located just a quarter mile going in to Hopkins village on the main newly paved road. Property is to the north side of the main entrance road. There are two tracts of land which comprise the total acreage of 246.4 AC.
This 246.4 Acres Hopkins Village tract is prime for a developer who is willing to subdivide residential lots for sale. As Hopkins Village develops and more people enter, more affordable large properties will become in demand. This is an ideal time for a developer to enter!
Hopkins Village has one of the highest and nicest beaches in Southern Belize. A prime choice for expats in the area. The property prices in this area are lower than those of its southern sister of Placencia Peninsula. Being that the property is so close to Hopkins beach community, it offers and ideal location for residential development expansion.
There are many possibilities for a developer with this tract. Obviously it is works for a marina community with access to the Caribbean Sea through it's lagoon area. Marina lots demand a higher retail price than only residential in this area. With the right surveyor, site planner, there are many options for "best use" of the tract. With this being the largest development tract for sale in the area and not restrictions so far as residential or commercial on title, I'm sure it won't be around much longer!
Fore additional information on Hopkins and Belize general contact the Belize Government Official Website.
Fore more info, contact authorized Broker – Brian Yearwood. Cellular # (+501) 625-3122.