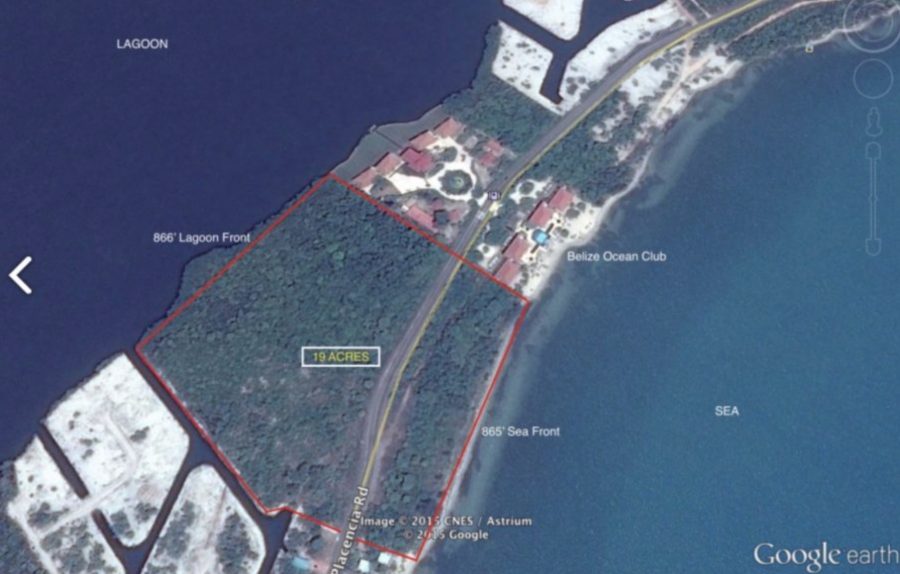 Price:   $3,300,000 US
Type:    Development Property
Status: Active
Size:     19 Acres
Location: Northern Placencia Peninsula
I.D.       VN03
MLS#
Prime Sea To Lagoon Property
This 19 Acre (sea to lagoon) property is the largest Commercial/Residential  vacant development property available for purchase on the entire Placencia Peninsula. It is located in the middle northern area in an upscale community in southern Belize therefore
The property sits in an ideal location and has the size for a large scale resort/condominium project. Main road passed through property. Total beachfront is 865′ of Caribbean Sea frontage and same at rear on the Placencia main lagoon. Above all
Large development properties of this size no longer exist on the peninsula! This is a special opportunity for an experienced developer to make his/her move. North adjacent to the property is the Belize Ocean Club resort and approximately 200 yards south is one of the very best restaurants "Maya Beach Bistro" on the entire peninsula.
Said 19 Acre (sea to lagoon) has (4) Land Certificates as titles. (2) for the front (sea to main road) and (2) at rear (main road to main lagoon). An ideal setup for a rear marina with condominiums or villas for sale. Properties have full infrastructure. A prime property is a prime location. A rare opportunity for a developer – "for sure". In addition
As property values increase in this upscale area of the peninsula and as new condominium projects complete their present developments, there in no doubt that this size of property will increase very quickly in value. Now is the time to purchase such as large tract on the Belize Placencia peninsula.
Please contact us for more information and possibilities for site.